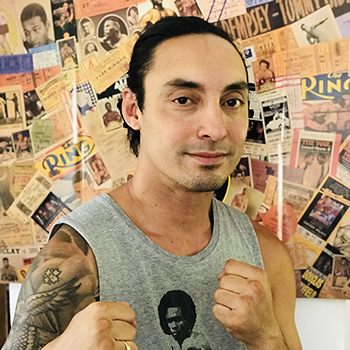 Chris Dunn
With a passion for boxing and an extensive background in the sport, Chris leads many of Beat Boxing's classes and trains fighters at every skill level.
Qualifications & Experience
As the owner and operator of Beat Boxing Gym, Chris Dunn is our Head Boxing and Fitness Coach. He works closely with the competitive fighters and runs many of our training sessions. Chris has well over 15 years of boxing and fitness experience, has competed in over 20 amateur fights, holds a Certificate 3 and 4 in Group Fitness and Personal Training, a Level 1 Boxing Queensland licence and is also a certified Australian Boxing Council Coach.
Passion & Expertise
Chris is driven by his passion for boxing and mixed martial arts, as well as his commitment to helping clients reach their goals and become the strongest version of themselves. He understands the science behind his practice and loves helping fighters develop their confidence, skills and ability.
What Does Chris Do?
Chris leads our dynamic and exciting Boxing Fitness classes and runs the majority of our technique and fighters training classes. He is also available for Personal Training sessions.