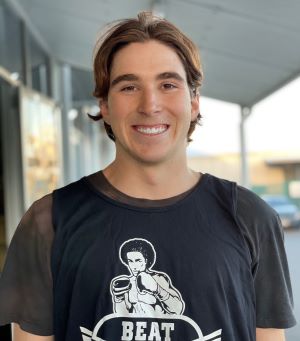 Making his amateur fight debut at 16, Max is an avid sportsman and fitness enthusiast who ultimately hopes to box at an international level.
Qualifications & Experience
Max took up boxing at the age of 12, quickly falling in love with the sport and going on to debut as an amateur fighter at just 16. Boxing is one of many sports that Max has poured his hard work into over the years, having also played representative hockey and rugby and spent time on our beaches as a Surf Life Saver.
He is currently an honours student at the University of Queensland where he is pursuing a bachelor of clinical exercise physiology. Max hopes to use his study to further his boxing career and bring what he has learned to his work at Beat Boxing Gym.
Passion & Expertise
Sport and fitness are two of Max's greatest passions, and he pours his own sporting experience into his role coaching at Beat Boxing. In the future Max wants to work on refining his skills and competing for both Australian and international boxing titles
What Does Max Do?
Max is one of our fantastic Boxing Fitness coaches, running various classes throughout the week, and he is also available for Personal Training sessions.